Our

World-Class Flatbed

and

Tow Truck Fleet

at Your Disposal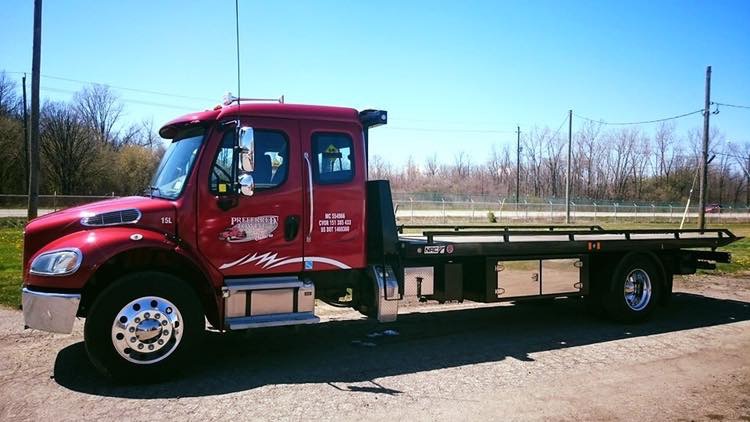 We specialize in all light duty towing services. We have a strong fleet always available, 24-hours a day, 7 days a week, 365 days a year that can handle all your towing and recovery needs.
Our dispatch team is trained to assess your requirements quickly in order to promptly send the correct Preferred Towing equipment your way. Whether you need us locally, across Canada or across the U.S., we can get to your location and recover any disabled piece of equipment 365 days a year. We operate an extensive fleet, meticulously maintained and kept ready-to-roll, so we are prepared to come to your aid when needed.
If you are out of gas, have a flat tire, dead battery, can't start your vehicle or encounter anything else preventing your vehicle from running safely, and it's nice to know you can rely on the professionals at Preferred Towing. We provide consistently fast and reliable light duty towing. Our team of courteous tow truck operators only operates with clean, state-of-the-art equipment.
We make sure that our tow truck is driven by licensed and professional operators. We pride ourselves on hiring friendly operators who strive to put the customer first.
You can always count on our business for guaranteed workmanship and personalized services.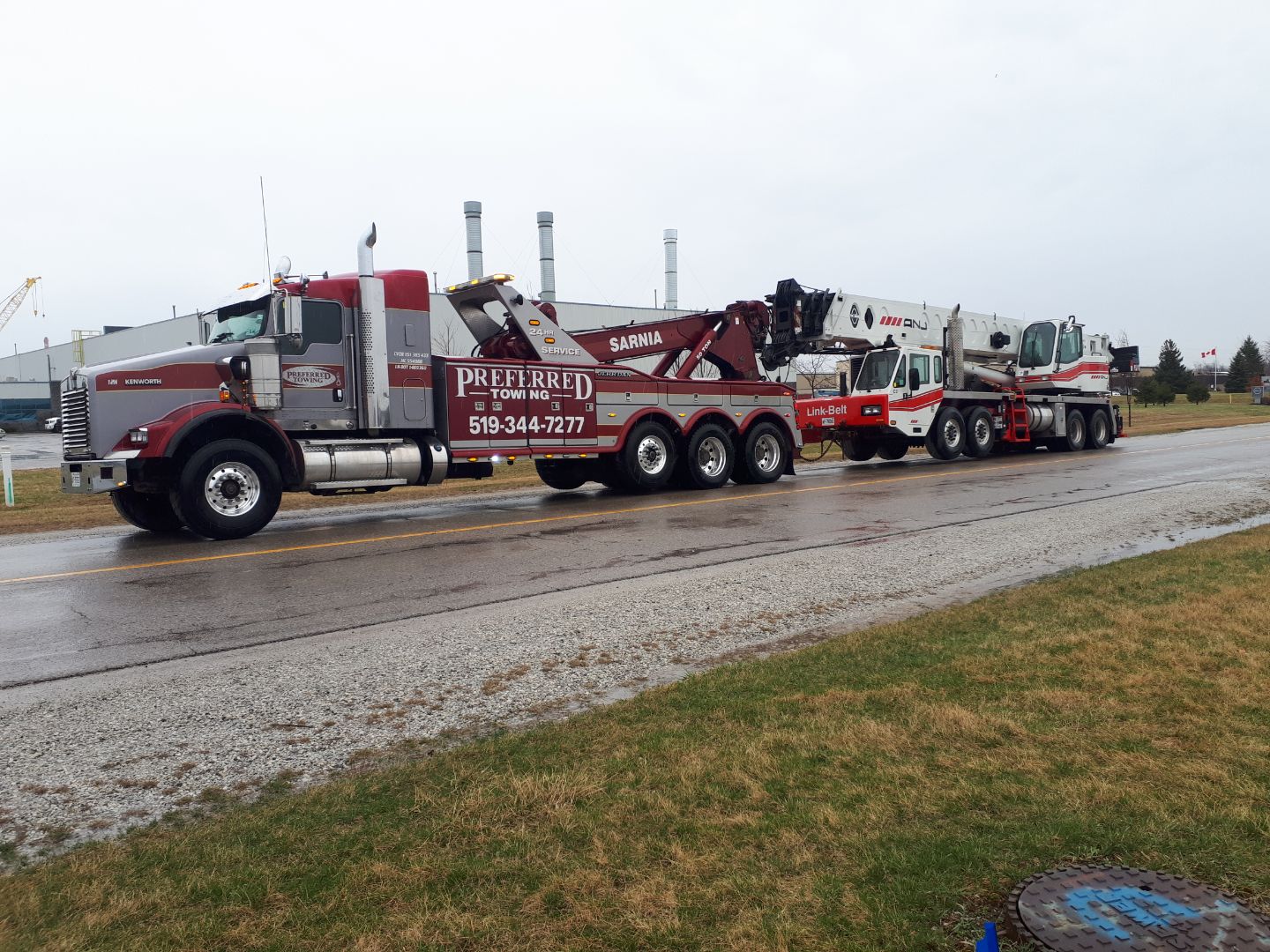 Preferred Towing's extensive fleet of heavy duty towing equipment is the largest in Sarnia-Lambton. This means less waiting time when you need assistance.
From local construction sites to across the province job sites, we can get to your location and recover any disabled piece of equipment 365 days a year. We operate an extensive fleet and have heavy duty muscle when necessary. Our trucks are meticulously maintained onsite, so we are prepared to help as soon as we get the call.
Our heavy duty tow trucks haul most large vehicles including tractor trailers, school buses, dump trucks, motor homes, mobile cranes, construction equipment, straight trucks, fire trucks, and emergency vehicles safely and efficiently. After decades of towing experience, Preferred Towing knows the importance of getting our customers ready to go and back on the road.
We carry comprehensive insurance and all of our employees are covered by workers' compensation and liability insurance.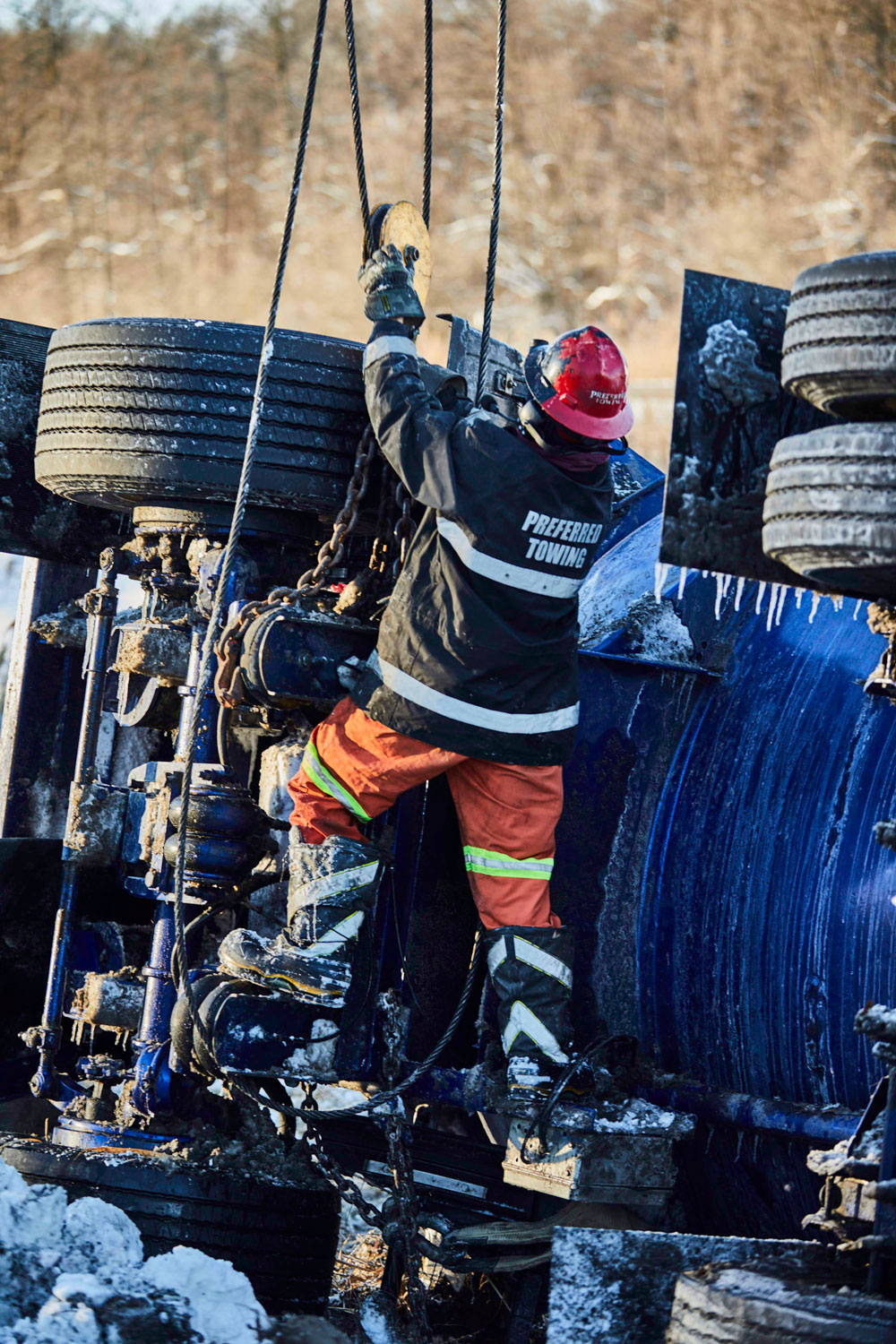 Our heavy recovery team can upright loaded trailers, boats, and other large pieces of equipment both safely and efficiently.
Our commitment to ongoing extensive technical training for all Preferred Towing's staff guarantees the highest level of expertise in every heavy duty job that we do. Our customers are assured, with our operators, their vehicle and equipment is in the best hands.
Our large fleet is capable of a wide variety of towing duties.
Our skilled operators utilize the truck's ability to lift heavy loads. Both the operators and the truck ensure your equipment is taken care of safely and as quickly as possible. We also handle the following duties: emergency recovery, load shifts, rollovers, pick up and storage of tractor trailers.
For this reason, our ongoing relationships in the trucking industry have allowed us to become the provider of choice in Sarnia Lambton for several large-scale trucking companies and a host of owner-operators. We pride ourselves on handling even the most challenging of tows and recoveries. Our tow operators are trained to be problem solvers, which makes no incident too difficult. If you find yourself in need of recovery services, Preferred Towing is the definitive solution.
Specialized Transportation
EXPERTS IN SPECIALIZED TRANSPORTATION
We are extremely proud of our team. Our professionally trained staff and the diversity of our equipment affords us the opportunity to handle any situation we are presented. Over 30 years of experience in towing, transporting, and recovering vehicles and equipment from across the country has made Preferred Towing a leader in resolving breakdowns, commercial towing, heavy hauling, and a vast array of other situations.
Overweight, Oversized, and Overcomplicated?
We can help! Our highly experienced and highly trained staff is capable of handling virtually any request. That is a big statement and we have the equipment to back it up. Our fleet of 13 trucks includes multiple units and intricate recovery equipment. No job is too difficult for us to handle.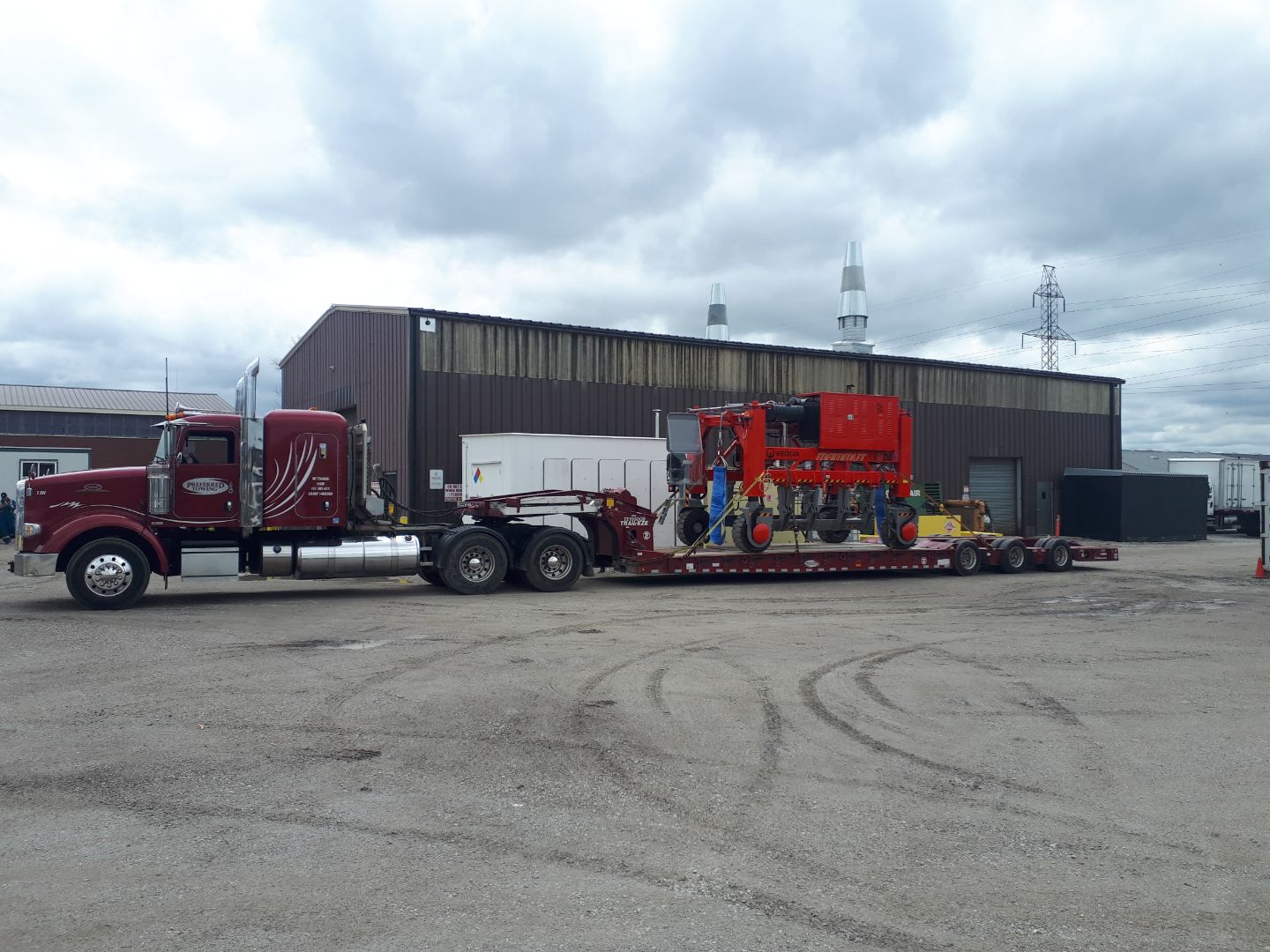 Our diverse fleet of transport equipment can handle virtually any type of specialized transport job.
We are licensed and insured to transport vehicles or equipment anywhere in North America. At your construction site or across the province or state, we can transport your equipment legally, safely, and efficiently. For over 30 years, we have been moving a wide array of specialized loads and equipment, from small forklifts, boats, transformers, and many other exotic forms of cargo. Machinery, engines, generators… you name it, we can transport it when and where you need it.
We pride ourselves in safe and efficient specialized transportation with a dedication to providing service. We have operators who are Hazmat qualified and certified in Transportation of Dangerous Goods. Preferred Towing will provide consistent performance, safe operations, superior workmanship, and quality that will exceed your expectations. We also cater to special requests of all types.
Machinery, engines, generators… you name it, we can transport it when and where you need it.
Our network of operators and support personnel are experienced with all types of loads and oversized transport. We have a full time staff dedicated to providing 24 – hour service to ensure your load is delivered as agreed.
Our recovery teams can upright loaded trailers, boats, and other large pieces of equipment with ease and efficiency.
Our specialized equipment affords us the ability to complete any job, regardless of how big of a task it seems. The Preferred Towing team is proud to be WreckMaster certified.